4 Ways Digit Members Stress Less About Money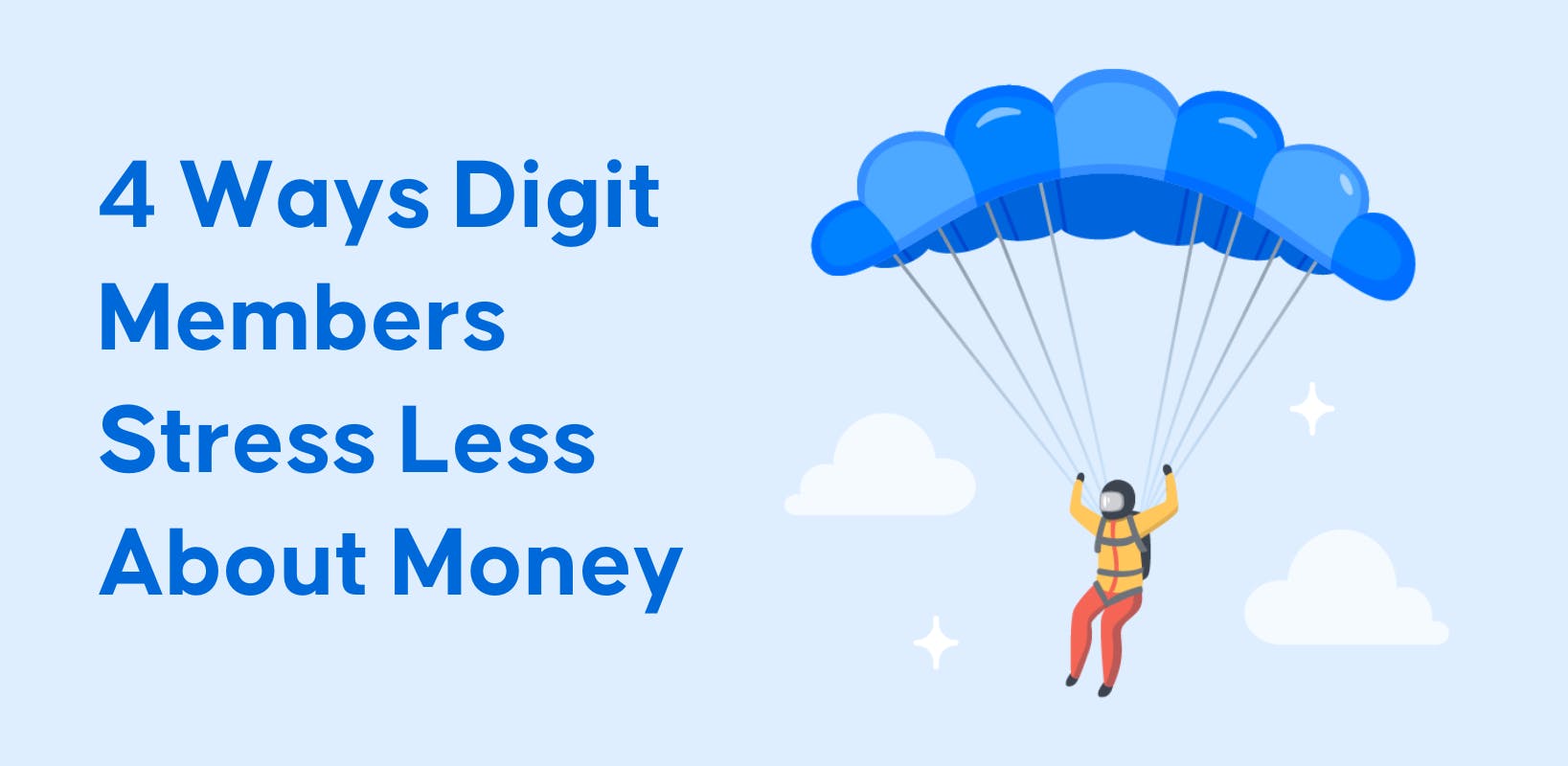 We've conducted interviews with dozens of Digit members over the past few months to see what they needed to feel less stressed about managing their money. Then we used that feedback to inspire the development of Direct, our new bank account in partnership with Pathward.
Here are four ways Direct helps Digit members like you stress less about managing their money. And if you haven't yet — join our waitlist to receive early access to Direct!
Know exactly how much you have available to spend.
The way most people 'guesstimate' how much money they have available to spend is not exactly scientific. They look at their checking account balance to get a sense of how much they have.
The problem with this is that your checking account balance isn't actually all available to spend — not if you have bills coming up, or rent due, or any other expenses that you need that money for.
To get a more accurate number of what you can safely spend, you would want to take that checking account balance and then subtract the amount you'll need for your upcoming bills and any planned savings goals.
We designed Direct to do exactly that: Calculate how much money you actually have available to spend, once you've set aside money for your bills and savings goals.
One Digit member has been using Direct for a few months, and says she enjoys logging in to see how she's progressing on her savings goals — and to check on her spending balance. "It's nice to just see a number every day."
Once you set up your bills and savings goals in Direct, then you can use Digit to quickly see how much you have available to spend. You'll also get a daily push notification that fills you in on your daily spending habits, so you can keep them top of mind.
'Set and forget' your recurring bills.
Manually paying your bills can feel like a very delicate juggling act. If you drop one ball (or one bill, in this case), you can get into trouble quickly. Automating the payment of your bills is the best way to make sure nothing slips through the cracks — but if you're living paycheck to paycheck, you might not feel confident about setting all your bills to autopay. What if you don't have enough money in your account when that bill is pulled from your account?
We aimed to tackle this issue by creating a way to set aside money you'll need for bills, so that you can feel confident about having the money you need, when you need it. You just tell Digit when and how much, and we'll work to keep your budget on track.
This Digit member was excited to share how Direct has been helping to quell their financial anxiety:
"I did something today for the first time: I set up one of my monthly bills for autopay confidently because of being able to look forward at my bills with Direct!"
Another Digit member says using Direct to manage his recurring bills has been "…really nice. I like that I set it up and I don't have to touch it all, Hulu, Spotify, Xbox. Takes care of it self. Really convenient. I don't have to check on it."
Another member shares that he also has been able to 'set and forget' his bills since using Direct. "Now that I have everything set up the way I needed it to be, it works fine and in the background."
One member says she would not be happy if she had to go back to the old way of paying her bills: "[Digit] saves me a lot of mental and emotional energy having to worry about bills. I would say it's the only app that I have used and kept using [be]cause it helps me in those ways. Everything else takes so much manual energy."
Save for your bigger goals, without even thinking about it.
Saving money for the sake of saving money, while virtuous, isn't exactly…inspiring. But saving money for the things you want and need in life? That can be seriously motivating. It's something Digit has been helping our members do since day one, to the tune of over $5 billion.
The ability to choose and save up for specific savings goals isn't going away with Direct. In fact, now it's even more convenient, because you can manage your savings in the same place you're managing the rest of your money.
Manage everything in one place.
Another common thread we heard in our conversations with Digit members was that they wished they didn't have to look in multiple places to get a full sense of their financial health.
Many members were using Digit to save and invest their money, in addition to using different apps to manage their checking accounts and track their spending. Some were using spreadsheets to manually keep track of everything.
We spoke to one Digit member who was finally about to ditch his spreadsheet thanks to Direct. "Really why I was really excited to test [Direct] was [be]cause I used to have a Google Sheet with all my finances and bills in that sheet manually, and it was easy to just move those over to Digit. I am not using the sheet any more, too. Nice to have it all digitally all in one place ー much easier."
---
We designed Direct with you in mind — to make managing your money easy. To put financial health within reach. To give you the kind of bank account you deserve. To give you peace of mind.
If you'd like to stress less about managing your money, join our waitlist to get early access to Direct. And let us know what you think about the experience! We'd love to hear from you.
Direct℠ is a deposit account established by Pathward, N.A., Member FDIC. Digit Visa® Debit card is issued by Pathward, pursuant to a license from Visa U.S.A. Inc. Card can be used everywhere Visa debit cards are accepted.