New research shows how innovation helps people save more money.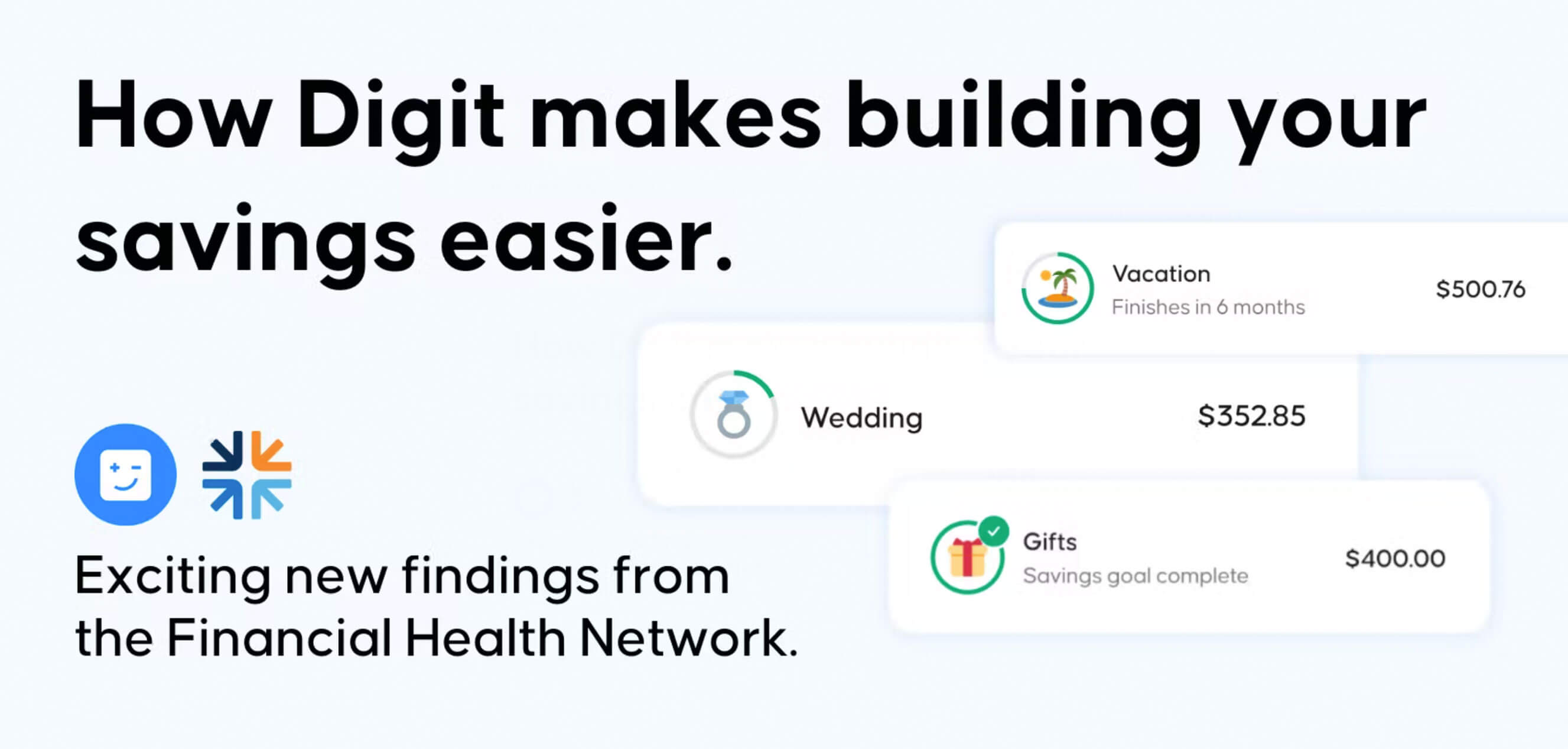 If you're looking to build your savings, new innovations in financial technology could be a game-changer. According to research published today by the Financial Health Network, apps like Digit can help people save more money than without. Why? They make saving both easy and compelling, so you'll save more and reach your financial goals faster.
Life is busy! Most of us don't have the time or mental energy to regularly move money into our savings accounts throughout the week. That's where technology - like Digit's automation - comes in. Just five months after starting to use Digit, members save an average of $217 more each month. Digit takes the heavy lifting out of the equation so your savings balances grow effortlessly, without interfering with your spending or other expenses. So you can relax and focus on more important things, knowing that Digit is always working towards your goals.
You'll also save more when you set up specific individual goals, rather than one general savings account, according to the study. Digit members with multiple savings goals average $114 more in savings deposits than those who have one goal after just five months of Digit use. Down payment on a bigger place before the new baby arrives? Saving up for a brand new HDTV, perhaps? Or, maybe a trip to Bali this winter? Getting specific with your goals is a great way to stay focused and motivated. Plus, watching those balances grow towards your goals is just plain fun! With Digit, you can set as many goals as you'd like - all completely customized for you (emoji included 😝).
From having a savings cushion in case of unexpected expenses to hitting specific goals, we've seen first-hand how Digit benefits our members both financially and mentally. Many of you have told us about your life-changing progress from saving with Digit.
"I have separate goals for all my set bills, plus a rainy day fund. [Digit] makes sure I have all my bases covered every month. I can't tell you what a relief it is!" - Bridgie099
"Digit has helped me so much! If I fell behind on a bill my rainy day fund has me covered. Within a couple months it had saved nearly $700 which will be my fun money for my trip coming up soon." - Kristen
"I use [Digit} to help me save for many trips/special events, including Christmas! I'm not gifted when it comes to numbers, so [Digit] helped me tremendously with not having to think about saving!" Madsgads
Of course, it's no surprise to us! Digit has been helping members save more money and hit their goals faster for years. While this research from the Financial Health Network validates everything we've known, our hope is that it will help us reach more people with our mission of financial health. If you're not using Digit…what are you waiting for?! Give it a try for six months - on us - and see how much money you can save towards your goals in that time.