A Fight for Racial Justice is A Fight for Financial Health
June 8, 2020

Racism is in direct opposition to Digit's mission of making financial health effortless for everyone. To fulfill our mission, we must recognize that institutionalized racism and financial health are inextricably intertwined.
Due to structural and systemic injustices, the Black community and other communities of color are far more likely to face financial hardship. The disparity is staggering. White Americans have about six times more wealth than Hispanic and Black communities. And double the income (source). The Black community has less access to traditional banking and is forced to depend on more expensive financial services (source).
Black Lives Matter. My heart breaks for the families of George Floyd, Breonna Taylor, Ahmaud Arbery, and too many others. Digit unequivocally stands with the Black community against racism, violence, and hate. We know that words alone are not enough. Heartache must give way to action. While it will take time to identify our longer term actions, we commit to these immediate next steps:
We are making anti-racism resources available to all employees and our Sr. Leadership team is going to be running an optional Black Lives Matter bookclub starting with "Stamped From the Beginning" by Ibram X. Kendi. We are inviting all of our employees to join us and engage in company-wide dialogue.


We are doubling down on our commitment to fostering a diverse and inclusive workforce where all employees feel like they belong. Diverse candidate pools will continue to be part of our formal company goals and we are increasing our efforts to make this conversation a larger part of company discourse. We'll have more to share soon.


We have kicked off a project to ensure all aspects of our product experience are inclusive and supportive. To start, we have updated all media in our daily notifications and are making sure in-app emojis include all skin tones. We should have done this sooner and commit to doing better.


Members of our Sr. Leadership team will be personally matching all employee donations up to $10,000 to causes dedicated to combating and countering acts of racial violence, reforming US policing practices, and challenging racial and economic injustice.
This is just the start and we know that there is much more to do. We promise to share our longer term commitments as they become clear. Real progress will require collective and continued action. We hope you'll join us.
- Ethan Bloch, Digit CEO
---
Staying on Top of Your Finances Just Got Easier
April 6, 2020

It's more important than ever for you to maintain your financial health, avoid late fees and preserve your credit lines. As always, Digit is saving automatically for you, preventing overdrafts and keeping you informed. When you open your Digit app, you'll see a new home screen that we designed to help you get more from your membership.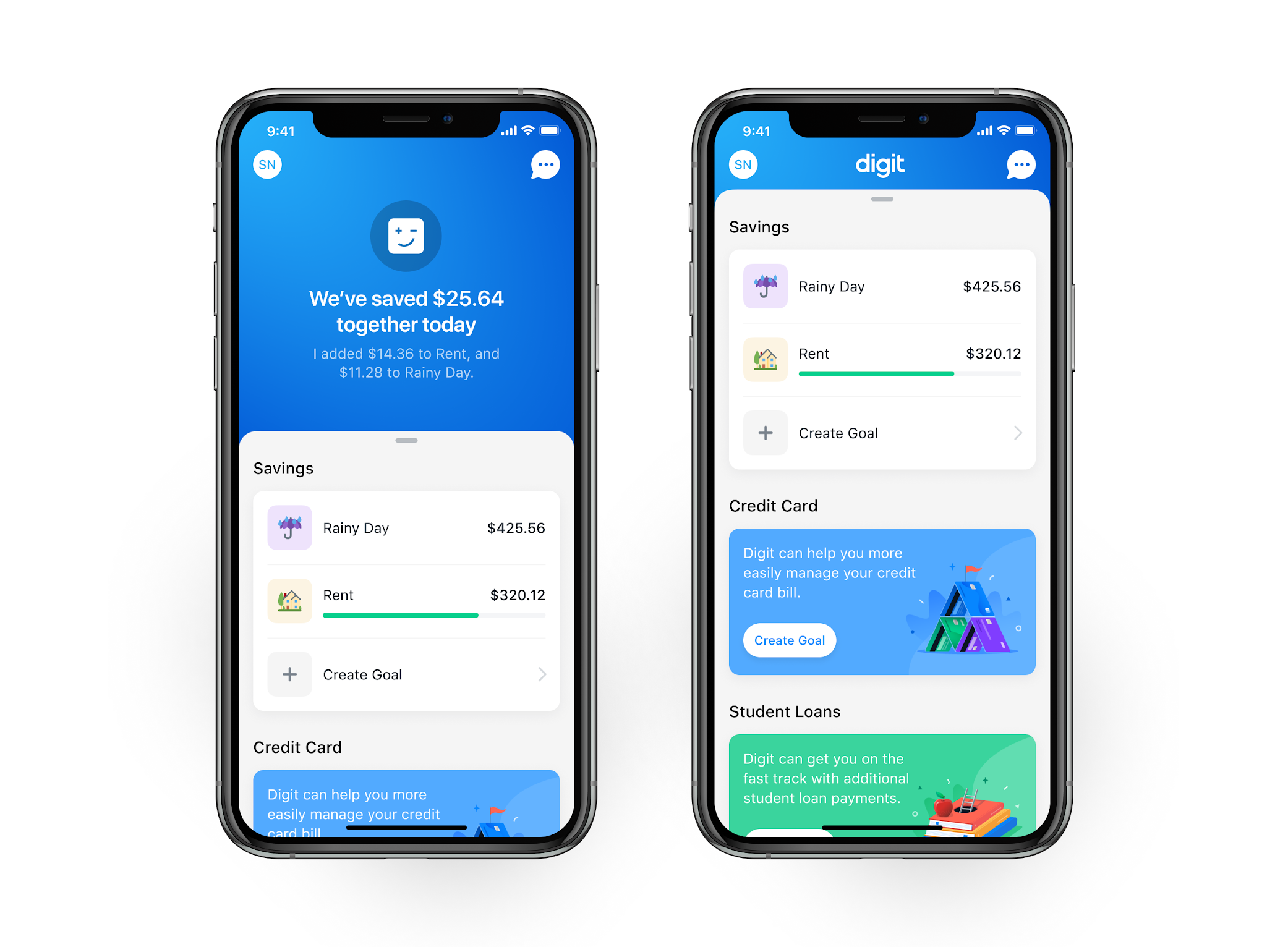 Track your Goals at a glance
All of your savings goals are grouped together at the top of your app. View the progress towards each goal and create new ones on the fly.
Get ahead on your credit card balance
Make progress paying off your credit card balance while you sleep.
Contribute what you can to your student loans
Your long-term goals are important. If you can, continue to make micro-payments on your student loans, right from Digit.
Pay more bills, painlessly
You'll see a new bill-pay category that makes saving for, and paying, your monthly expenses automatic.
Keep tabs on your cashflow
Since Digit connects to your checking account, we can show you exactly how much cash you have available. For additional protection, you can enable, adjust or remove overdraft protections.
While these are difficult times, remember Digit is always here for you. Now more than ever, we're looking out for you and have also put together a hub with some of the best resources we could find for coronavirus financial relief. Check out Digit's Coronavirus Relief Hub here.
---
In Times of Uncertainty, You Can Always Count on Digit
March 19, 2020

Hi Digit Members,
With the current coronavirus pandemic, these are difficult and unnerving times. If you remember, when you signed up for Digit, the first thing we did together was make a rainy day fund. Whether you realized it or not, that crucial first step you took was for times just like these. And no matter your situation, Digit is fully prepared to continue helping you protect and secure your financial future.
Here are some of the ways we'll get through this together:
Your money is safe with Digit. All your Digit savings are FDIC-insured up to $250,000. And because you're saving with us, not investing, your money doesn't fluctuate with the stock market. Plus, you have overdraft prevention for an extra level of security.
Digit is always working for you. We're still saving for you and making payments to your credit card, student loan, and phone bills, if set up. And we're constantly monitoring your finances, so we can always save the right amount for you. You can make any account changes here, and remember you can boost, pause, set daily limits, or withdraw your money anytime.
We'll keep you informed. Digit will continue sending you checking balance updates so you can stay on top of your money. We're also looking for new ways to support you in this difficult time and will update you as soon as we have more information.
If there are any questions you have about your money (or anything else really), email us at together@digit.co and we'll be in touch.
At Digit, we like to say that no matter what, we're all in it for the journey. In these uncertain times, we're here for you on your journey towards financial health now, more than ever.
Sincerely,
Ethan Bloch, Digit CEO, and the whole Digit Team
---
Digit Will Now Pay Your Phone Bill
January 22, 2020

If your monthly phone bill stresses you out, let Digit answer the call. Digit's new Phone Bill Payments will automatically save for and pay your monthly phone bill. By saving for your bill over the month, Digit helps you better budget and avoid handing over one large payment. On top of that, Digit's automatic payments mean you'll be less stressed and have more time to focus on the things that matter.
"This is a really cool feature because it's not making one large payment. The little saves here and there go a long way. Having Digit save and pay my phone bill lessens the burden." - Orlando, Digit Member
How it works:
Create a "Phone Bill" goal on Digit
Tell us your provider. We're supporting AT&T, Verizon, Sprint, Cricket, T-Mobile, and Metro to start.
Add the bill amount, due date, and your account ID
That's about it. If it looks like Digit can't pay your bill in full, it'll send what it can and remind you when the rest is due. If you already have autopay set up with your provider, Digit can make your remaining balance more manageable when the due date rolls around.
According to the Bureau of Labor Statistics, last year consumers spent, on average, a whopping $1,188 on their cell phone provider. This new feature represents our continued commitment to creating best in class products that can help people at any income level achieve and maintain financial health.
---
Digit Now Helps Pay Off Student Loans
October 31, 2019

Digit's new Student Loan payments feature helps you pay down your student debt faster and easier. By simply creating a new Student Loan goal or upgrading your existing one, you'll be at the head of the class. Like any other goal, Digit will automatically save the right amount. The best part? Digit also automatically makes additional payments directly to your loan provider.
"Digit recently sent $35 to my student loans, and it will soon pay another $45. If I didn't have the app, I would only be paying the minimum." - Diony'a, Digit Member
The average American college grad with student loans has over $20,000 in student debt, which takes over 21 years to pay off. That's long enough for someone to go from being born to graduating college in the first place! More than a quarter of Digit members have outstanding student loans, and figuring out how to get out of debt faster can be tedious. After all those years hitting the books, you shouldn't have to study hard to figure out how to optimally get out of debt.
So, give Digit's Student Loan payments a try. Once activated, Digit will automatically save and make additional payments on top of the minimums you're already paying on your own.
About Student Loan payments
To activate Student Loan payments, create a student loan goal and connect your loan account to Digit.
Already saving for your student loans with Digit? Tap the goal and enable additional payments.
We're currently supporting top loan providers like Navient, Great Lakes, Nelnet, Fedloans, American Education Services, and more.
Even thinking about student loans can be stressful, so enable Student Loan payments and let Digit handle the heavy lifting. You can cram a couple decades of student loan payments into a much shorter time frame, all without thinking about it.
Today, Digit helps you save, prevent overdrafts, and pay down your credit card and student loan debt. We're looking forward to launching additional features that continue to help improve your financial health.
---
Celebrating Digit's Impact and Funding
September 30, 2019

At Digit, we're on a mission to make financial health effortless for everyone – starting in America, where 180 million people lack financial health, 58% have less than $1,000 in savings and, on average, households owe over $8,000 in credit card debt. To propel us forward, we have raised a Series C funding round to help us further financial health for even more Americans.
Here are the details for our Series C:
    
We raised $27.5 million of new funding
    
The round was led by General Catalyst, who also led our Series A
    
We welcomed the continued backing from existing investors, including Ribbit Capital, Google Ventures, Freestyle Ventures, and others
    
We're pleased to announce that Citi Ventures and Financial Venture Studio have also joined as strategic investors to help us provide effortless financial health for everyone
"Millions of Americans struggle to manage their finances, and we're working hard to change that. This round of funding means we get to continue to pursue our mission in an even more impactful way."

- Ethan Bloch, Founder and CEO of Digit
From Effortless Savings…
Digit started as a savings tool, creating a new 'auto-save mode' to remove the stress and effort of saving money for the everyday and long-term. By connecting directly to our members' banks, we automatically and intelligently allocate money towards their savings goals, ensuring effortless, personalized and steady progress towards financial health. So far, our members have set over 8 million goals and on average save over $2,000 a year. Together, we've helped our members save over $2.5 billion.
…To Eliminating Credit Card Debt Faster...
Earlier this year, we brought that same effortless approach to eliminating credit card debt. By connecting directly to our members' credit card accounts, we automatically and intelligently allocate savings and make direct payments towards their credit card balances to help them get out of debt faster. The average Digit member using this feature is on track to pay off their debt 11 months faster.
…To Avoiding Unnecessary Fees
To provide even greater financial stability for our members, Digit launched Instant Overdraft Prevention in August 2019 as a way to protect our members from unnecessary fees charged by their banks for overdrafts. We're already saving our members over $1 million a month in overdraft fees.
Join Us On This Journey
We've seen that the longer people use Digit, the more we see signs of their financial health improving. It is this kind of positive impact on our community, along with this new round of funding and the continued support of our dedicated team, that continues to propel Digit forward.
We're hiring across teams, and we'd love to get to know you. Only an incredibly talented team can build a lasting business whose principal goal is to deliver financial health. We're so grateful and inspired by everyone who's joined us on this journey. Here are some quick callouts from just the last 90 days:
    
Our team has rapidly grown from 40 to over 60 Digits, with more joining every week.
    
Karthik Hariharan joined as our Vice President of Engineering to scale our engineering team. Most recently, Karthik spent 4 years leading engineering teams at Uber, UberEats, and Jump.     
    
Carolyn Satenberg joined as our Head of People to lead recruiting, learning & development, and strategic HR with a special focus on diversity & belonging at Digit. Carolyn was previously Head of HR at Eventbrite.
Thank you to everyone who has invested and supported us on our journey so far at Digit. We are thrilled to continue forward on our journey to make financial health effortless for everyone.
---
Introducing Instant Overdraft Prevention
August 12, 2019

Overdraft fees can hit at the worst possible times — when you're already stretched thin, saving for an essential payment, or waiting for payday. Digit customers avoid all that with Overdraft Prevention, which puts funds back in your account when you need them most. And it just got a major upgrade — instant transfers.
Now if your checking account is low, money from your Digit savings arrives in seconds at no additional cost. With Instant Overdraft Prevention, you set your safe level and you're done. If a withdrawal or charge takes you below your safe amount, you'll have funds from your Rainy Day savings right away.
The Details:
Overdraft Prevention is now instant for eligible customers: Set Up Overdraft Prevention
There's no additional cost — Instant Overdraft Prevention is part of your subscription.
You're eligible if your bank supports instant withdrawals.
Overdraft Prevention already helps customers avoid an average of two overdraft fees per year. With this update we expect that number to go up — fast. Speed is key when your balance is low, and Instant Overdraft Prevention is an extremely quick step in the right direction.
---
A Price Update For New Customers
July 23, 2019
Starting July 23rd, Digit will be $5 per month for new customers after their 30 day free trial. If you're a current customer or currently in a trial period, the cost of your subscription won't budge. You'll keep getting everything we have to offer for $2.99 per month.
How we got here
It's been a little more than 2 years since we started charging for Digit. And we've added a whole bunch of powerful tools since then like overdraft prevention, automated debt payments, and faster withdrawals to name a few.
To continue building towards effortless financial health for everyone, with a simple and transparent business model, we need to increase the price of our subscription for new customers.
That's why we landed at $5 — a little more than a cup of coffee, a little less than a deli sandwich.
Here's what is in a Digit subscription today:
Automated Saving - Digit analyzes your spending and saves the perfect amount every day. Our average customer saves $2,200 per year.
Unlimited Goals - Save for a vacation, an emergency fund, or anything you can think of. Set as many goals as you like and Digit will get to work. Our average customer saves towards 3 different goals at once.
Automated Debt Payments - Digit will save for and automatically pay down your credit card debt. Our average customer pays down $1,000 of credit card debt per year.
Overdraft Prevention - Digit sends money to your checking if your balance dips below a certain amount. Digit helps our average customer prevent 2 overdrafts per year.
1% Savings Bonus - Digit automatically rewards you 15X more than most bank savings accounts.
Unlimited Withdrawals - There's no limit to how many times you can pull from Digit, and you can upgrade to instant when you need it.
Overdraft Reimbursement - The fee is on us if Digit saves too much.
No Account Minimums - You can leave as little or as much as you want in Digit.
That's a lot for $5, but we won't stop there. We'll keep working to make sure that you're getting way more out of Digit than you're putting in.
If you have questions about our monthly subscriptions, we'd love to hear from you. Please send us a message here.
---
It's Your Money, and You Need it Now!
May 14, 2019

When you're in a pinch, your savings can seem awfully far away. Like when those unexpected bills pop up. Or a tire on your car pops right off. You can't plan for those kind of surprises, but we've heard getting your savings faster would make a huge difference.
So here's a good kind of surprise: Instant withdrawals are now available for Digit.
You'll be able to get your savings from Digit to your checking account in 30 minutes or less, for 99¢ (most of the time it'll arrive in seconds). The fee is the same regardless of how much you take out, and you can do it as often as you like.
Update to the latest version of the app and tap "instant" on your next withdrawal to give it a try.
We're starting to roll out instant withdrawals for users at eligible banks. That covers about 70 percent of our customers. If you don't see the option available when you update your app, stay tuned. We're rolling this feature out over the next three weeks.
One last thing — standard withdrawals (1-3 days) aren't going anywhere. You can still get your savings from Digit anytime at no additional cost.
---
Get That Debt Off Your Shoulders
April 24, 2018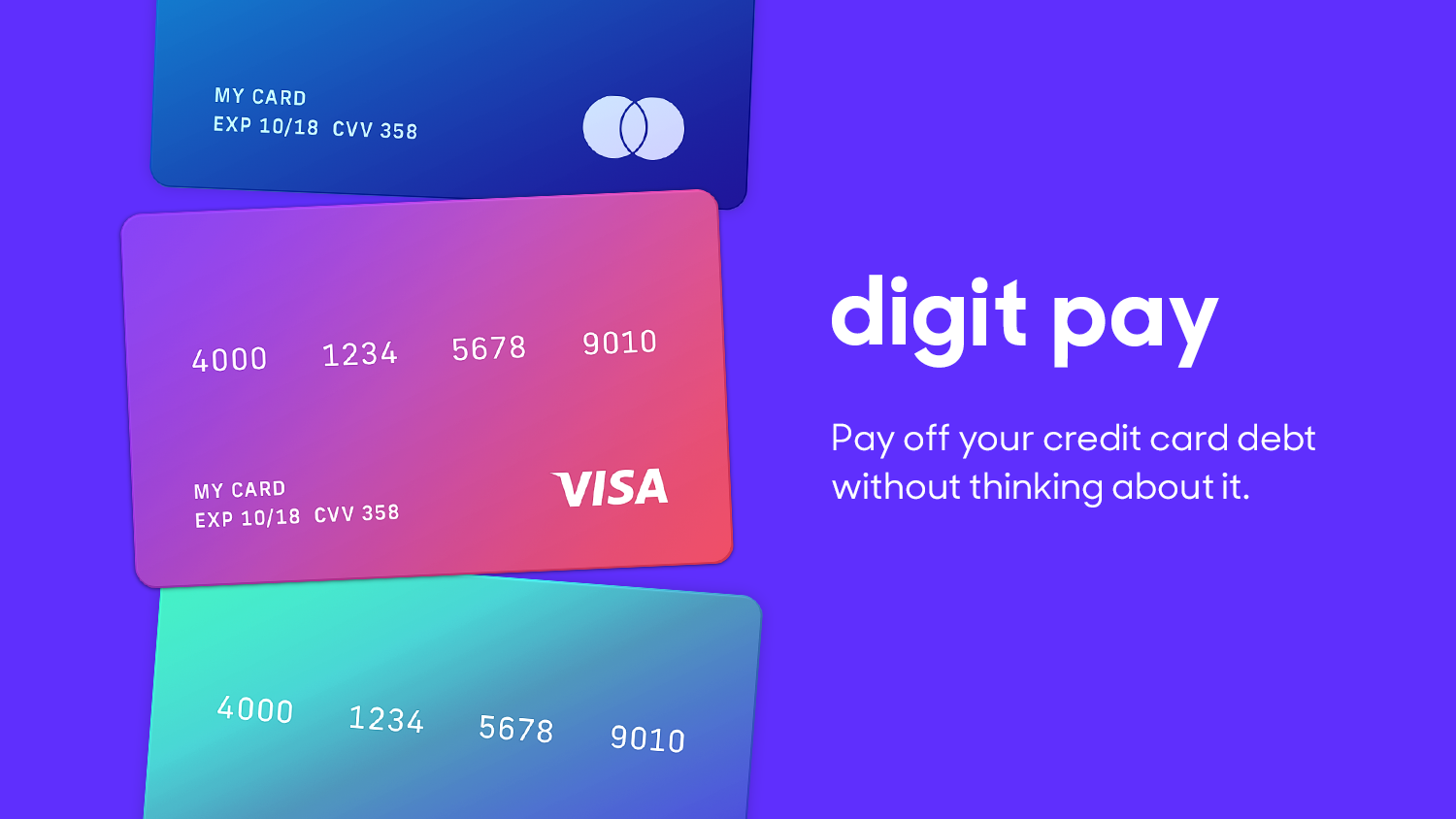 What can be big or small, can creep up on you in broad daylight or at night, can be scarier than a horror movie villain, and is soon something Digit can help you conquer? Credit card debt!
Credit card debt can be stressful — stressful when some debt has built up (I'm looking at you, new apartment furniture...) and stressful when you're trying to climb your way out. It's something millions of Americans are dealing with... to the tune of almost a trillion dollars.
Since Digit's launch, one of the main ways our customers used their savings was to make extra payments towards their credit card debt. That process requires a bunch of work:
Check your Digit savings balance
Make a manual withdraw
Wait for the money to hit your checking account
Make sure you didn't spend that money when it hit your checking account
Set up a payment to your credit card company
What. a. hassle.
Digit Pay cuts out all those steps. Turn on Digit Pay, and the savings Digit puts aside for your credit card goal each month will be used to make an extra payment to your credit card.
You can now can chip away at your credit card debt while you sleep. Or while you enjoy your morning coffee. Or while you crush a workout. Or while you hone your next talent. Because Digit Pay means less work for you, and more time to do the things you care about most.
It also means you'll be on the fast track to getting out of debt. Here's a secret credit card companies don't want you to know: a little goes a long way. For example, if you have $5,000 in credit card debt, an extra $100 a month payment could save you $2,000 in interest and make you debt free in 30 months compared to 80 😮!
Digit Pay will be rolling out slowly over the next few months. Reserve your spot today.
More savings. Less debt. Let's do this together.
---